Bosnian Capital Chokes "In Own Category" of Air Pollution
As air pollution levels peak in Sarajevo, making it the most polluted major city in the world once again, the Swedish embassy complained that the smog was now in a category of its own.
Thick fog mixed with fine particle pollution has settled over the city, making the air dangerous to breathe and drawing angry reactions from environmentalists and ordinary citizens alike. Criticism of the lack of a proper official response has spread on social media, with calls for action on an issue that has dogged the city for years.
The Swedish embassy to Bosnia, a long-time advocate of tougher air pollution action in the country, tweeted that Sarajevo was "in a category of its own" as the air pollution levels on Saturday were so high that categorizing the health hazard level made no sense. It called for urgent action.

Unfortunately, on planet Earth #Sarajevo is now in a category of its own when it comes to bad air quality. Urgent action is required. We will continue our support in the envi sector. #SwedenInBiH @UNDPBiH @hbs_sarajevo @vladaks_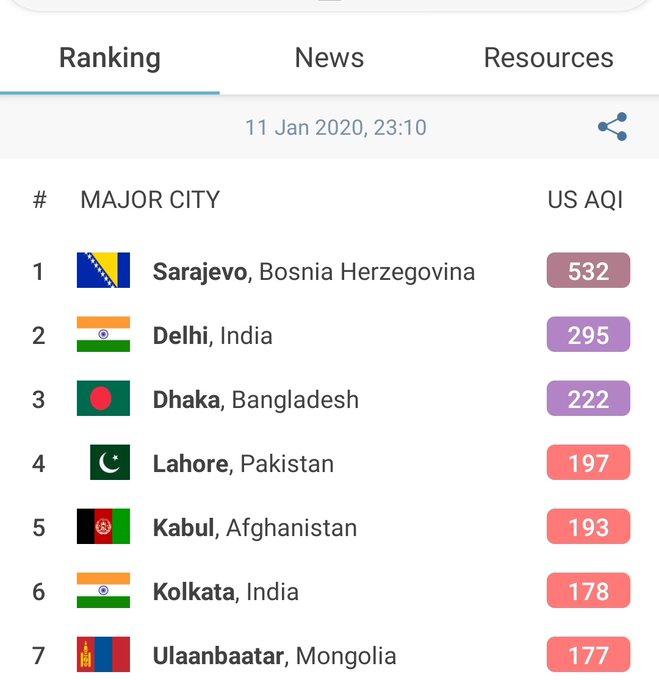 234:16 PM – Jan 11, 2020Twitter Ads info and privacySee Sweden in BiH's other Tweets
In a bid to control levels of fine particle pollution, the Sarajevo Canton has banned diesel vehicles from the city centre. The Cantonal government also recommended use of protective masks outdoors.
That recommendation, however, was met criticism on social media, as some noted that the government has not purchased such masks for city workers who have to work outside whatever the pollution levels, such as police and public transport workers.
The Sarajevo city authorities, whose public enterprise runs the Trebevic cable car, have lowered the price of cable car tickets at weekends, encouraging people to spend more time breathing fresh mountain air above the thick layer of smog blanketing the city. The discount will run until March 1.
As weather conditions in the capital are expected to remain stable in the coming days, the authorities have warned that air pollution levels will likely remain high.
Sarajevo is not the only Bosnian city battling severe small particle pollution this month. Ilijas, some 13 kilometers north-east from Sarajevo, was the most polluted place in the whole of Bosnia on Monday, according to the Federation entity's meteorology institute, with pollution levels described as extremely hazardous.
In Tuzla, a city in the north, locals protested on Sunday at the main square, wearing protective masks and urging the authorities to do more about high levels of air pollution in this industrial city.
Source: BalkanInsight