Balkan Treat Box Opens in Webster Groves
By Tom Hellauer
On a quiet February morning, Loryn Nalic lit the wood-fired oven at Balkan Treat Box(8103 Big Bend, Webster Groves; 314-733-5700), warmly illuminating the space holding the new brick-and-mortar location for her wildly popular food truck of the same name.
As the flames danced in front of her, Loryn was flooded with emotion — her dream of owning a restaurant was actualized. She remembered working as a server, bartender, pastry chef and just about every role in the restaurant business along the way. "You name it, I've done it," she says.
The moment "was intense… hard to put into words," Loryn says. "I'm just so grateful."
But though Loryn had dreamt of living above her restaurant, she and her husband Edo settled for next door instead, after the neighboring space that used to house Stratton's Cafe became available. "They just don't make [buildings] like they used to," Loryn jokes.
While the couple enjoyed critical acclaim and financial success with the food truck, owning a restaurant "was always the plan," Loryn says. Patrons can expect the same creative Bosnian-inspired recipes that made the truck a hit, only this time with an expanded menu made possible by having more space and storage.
One of the truck's calling cards, a wood-burning oven, is also a sizable, copper-finished highlight of the new restaurant. Its warmth and delicious aromas emanate from just behind the counter for customers to admire.
It gets put to use too, with each of the menu's various breads baking inside before finding their way onto a dish.
"It's the small imperfections… those little blisters," Edo Nalic says, that make the bread just right.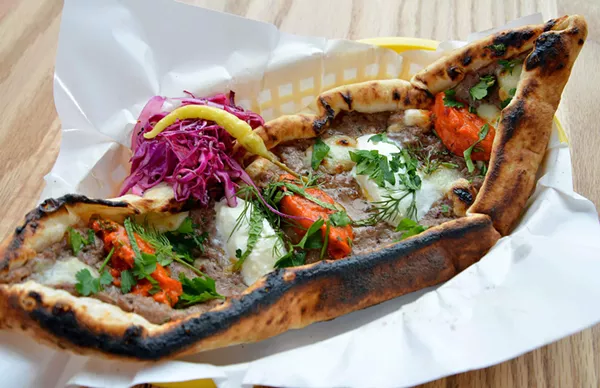 The pide features a choice of beef, chicken, veggie or cheese with ajvar, kajmak, herbs and cabbage salad.
Favorites such as the pide, a wood-fired flat bread with a choice of protein or veggies along with herbs, kajmak, ajvar and more, are made ready-to-order.
While Edo Nalic hails from Bosnia originally and spent time in Little Bosnia's restaurant scene, the couple combines and fuses other flavors from the Balkan region. Turkish, Croatian and other influences show up on the menu. "We want to broaden the spectrum," Edo Nalic says. "We don't want to focus on one narrow [identity]."
Edo Nalic recalls a Turkish customer excited to try the lahmacun pide. "If it was just Bosnian, he would not be coming," Edo says.
"It's just fun to watch everyone experience it," his wife says. In that spirit, most offerings are available as vegetarian and vegan options, furthering Balkan Treat Box's inclusivity.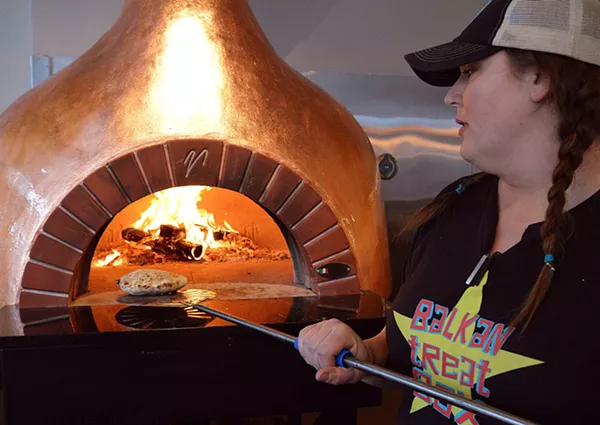 Loryn Nalic bakes bread over a wood fire.
The space also shows the touches of a community, with the Nalics, family members and friends coming together to renovate the 1,825-square-foot spot. Edo's father shaped and built the wood oven. Loryn hand-made the light fixtures, sawed more than 2,000 blocks of wood for a decorative wall and built the copper sculpture of the Balkan states now hanging in the restaurant. "I'm a plumber's daughter," Loryn says of her handiness.
"We have wonderful friends and family that stepped up and really gave us a push. The restaurant community started feeding us everyday," Edo says.
"Thank goodness, because we were broke," Loryn adds.
The pair are more than ready for their creation to open tomorrow, having started renovations back in August. The restaurant is fast-casual (customers order at the counter) and hours are flexible at this point, dependent on supply. The Nalics aim to get their liquor license by April, although they are unsure which wine and spirits will make the cut.
The Nalics seem to be well at home in the popular stretch of Big Bend, literally and metaphorically. They aim to be here for the long-term, hoping to pass down the eatery to their two children who haven't quite grown an interest for the food industry — yet.
"We want to be here. This is our life and this is what we want to do with it," Loryn says.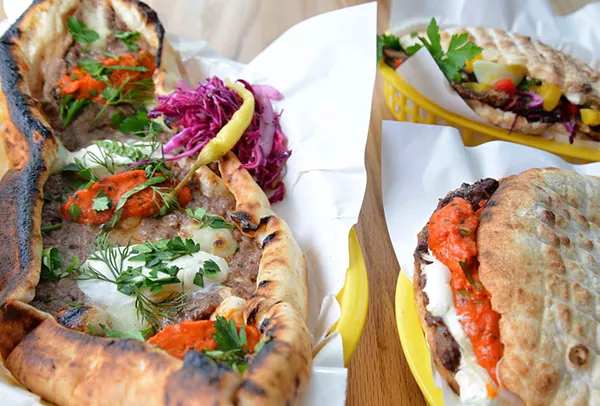 Balkan Treat Box's menu finds inspiration from Bosnian, Turkish, Croatian and other influences.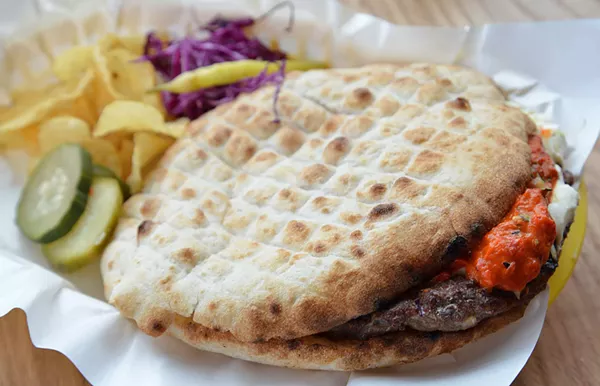 The pljeskavica or "balkan burger" is grilled and placed on a flatbread with cheese, kajmak and somun.
The Nalics hand made this art installation of the Balkan states. It is the same graphic on the food truck.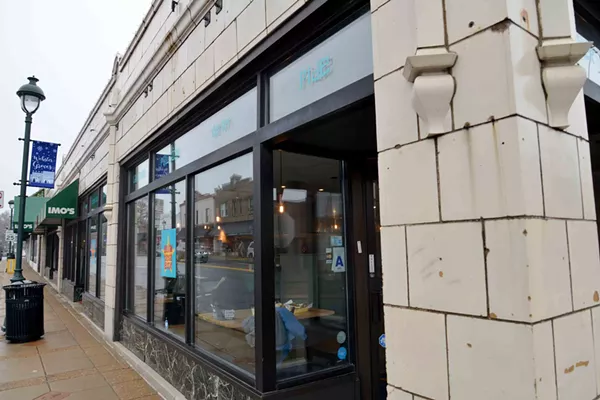 Balkan Treat Box sits on the corner of Big Bend and North Old Orchard Avenue in Webster Groves.
SOURCE: RIVERFRONT TIMES